Doctor of Nursing Practice
Doctor of Nursing Practice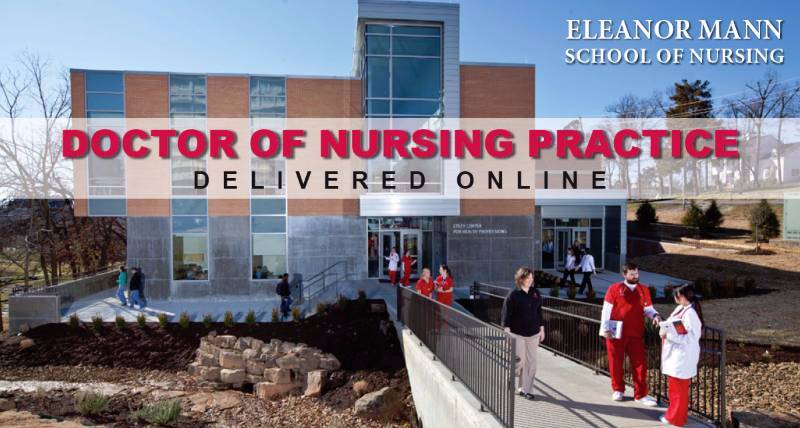 The D.N.P. is a practice-focused doctorate for those nurses who desire a terminal degree with a clinical focus. The D.N.P. prepares advance practice nurses to function as experts and leaders in increasingly complex health-care settings. Students work closely with approved preceptors in their locale for guided clinical practice in conjunction with faculty. While an online educational program, the D.N.P. online program does require minimal campus visits including a mandatory one-time program orientation.
The nursing practice doctorate has two paths of entry: Bachelor of Science in Nursing (B.S.N.) and Master of Science in Nursing (M.S.N.).
The B.S.N. to D.N.P. now has one concentration: Family Nurse Practitioner.
The M.S.N. to D.N.P. expands the skills and competencies of the advanced practice nurse for greater career options.
The University of Arkansas now offers an online program to earn Doctor of Nursing Practice-Executive Master of Business Administration dual degrees. It is for master's prepared, advanced-practice nurses with leadership experience who seek top executive positions in healthcare systems and industries.
Degree Requirements (from Catalog of Studies)
Expenses
Currently, graduate nursing students are charged $583.11 per credit hour in-state tuition, according to the Fee and General Information section of the Graduate Catalog of Courses. Also helpful is the Tuition Estimator from the Treasurer's Office.
Student Learning Outcomes
The goal of the D.N.P. program is to prepare graduates who provide leadership in the application of evidence-based clinical practice and contribute to the development of nursing science through independent and collaborative participation in scholarly activities, focusing on the improvement of client care outcomes. Upon completion of the program, graduates will be able to:
Evaluate and utilize advanced knowledge and theories from nursing and related disciplines to solve complex health issues for individuals, aggregates, populations, and systems.
Design, implement, and evaluate strategies that promote and sustain quality improvement at organization and policy levels.
Provide leadership in the transformation of health care through interprofessional collaboration, application of technology, and policy development.
Incorporate evidence-based clinical prevention and health services for individuals, aggregates and populations.
Demonstrate clinical expertise, systems thinking, and accountability in designing, delivering and evaluating evidence-based care to improve patient outcomes.
What About a Career in Nursing Education?
A multidegree option will equip the D.N.P. graduate for the role of the professional nurse educator. Students will earn both the M.S.N. and the D.N.P.. Admission to both the M.S.N. and D.N.P. programs is required. The additional course requirements beyond the D.N.P. program are four courses in the nursing education concentration and an education-focused scholarly project.
For questions and additional information please email onlineRN@UARK.edu or phone 479-575-3904.