ANEW Grant
The project goal of the Advanced Nursing Education Workforce Grant (T94HP30899-07-00), funded by the federal Health Resources and Services Administration, is to improve the health of rural and underserved Arkansans by ensuring a sufficient number of highly educated, culturally competent and clinically skilled family nurse practitioners are available to practice to the fullest potential to transform the nation's evolving health care.
The purpose of the ANEW Grant is to Reinforce, Educate, Network, Energize and Win (ANEW-RENEW) infrastructure support to expand well-established experiential training partnerships among the Eleanor Mann School of Nursing of the University of Arkansas, Community Clinic of Northwest Arkansas and ARcare in Arkansas. Ultimately, this effort will enhance nursing education and practice in order to increase the number of nurse practitioners educated at the doctoral level in primary care settings who can address and manage social determinants of health, thus improving health equity and literacy for Arkansans in rural and underserved areas. The ANEW-RENEW grant program is a continuation of the ANEW grant with yearly conditional renewal from July 2023 to June 2027.
This map of Arkansas pinpoints locations of academic practice partners, site partners, and preceptors who have agreed to host one or more of our D.N.P.-F.N.P. students.
Benefits to ANEW Grant Students
The EMSON ANEW-RENEW grant provides support to graduate students pursuing their Doctor of Nursing Practice as family nurse practitioners and who have a desire to practice in rural and/or underserved communities in Arkansas. Students chosen to participate in the ANEW grant receive additional support such as financial funding, mentoring, assistance with site and preceptor placement, and additional education through hands-on workshops and courses specific to caring for rural and underserved populations.
Funding for ANEW students can total up to $25,000 a year in financial awards that help to pay tuition, books and other expenses incurred during their education, allowing students to spend more focused attention on their educational requirements.
Requirements
To be eligible for the ANEW grant, students must be:
A U.S. citizen
A registered nurse, holding an unencumbered R.N. license in Arkansas
Enrolled full time — 9 credit-hours per fall and spring semesters — in the school's D.N.P. Family Nurse Practitioner concentration
A Bachelor of Science in Nursing-to-D.N.P. student OR be seeking initial certification as a F.N.P. — currently certified F.N.P.s are not eligible
In good standing under EMSON and U of A academic standards
Willing to complete 2 semesters (1 year) in a primary-care practice that treats rural or underserved Arkansans
Willing to sit for certification within 6 months of graduation
Willing to take additional courses required by the grant
Note: Students who already have nurse practitioner certificates are not eligible.
ANEW Grant Preceptors
Clinical preceptors are an integral part of our team, and we are very appreciative of the time and expertise they share with our students. Grant team members maintain routine conversations with preceptors to collaborate and enhance the clinical student experience.
Support and guidance will be provided to preceptors through the free, self-paced course EMSON D.N.P. Preceptors: Shaping Future Providers. Modules address topics such as effective precepting strategies and communication with the student. Completion of this course earns 2.5 nursing contact hours.
Further details can be read in the article "Grant's Goal Is to Improve the Health of Arkansans Who Lack Easy Access to Primary Care Services."
ANEW Grant Team Members
Marilou Shreve, D.N.P., A.P.N., R.N., project director, mdshreve@uark,edu
Martha Butler, Ph.D., R.N., community preceptor liaison, mrbutler@uark.edu
Becky McCann, M.S.N., R.N.C. project manager, rxm012@uark.edu
ANEW Grant Newsletter — (PDFs)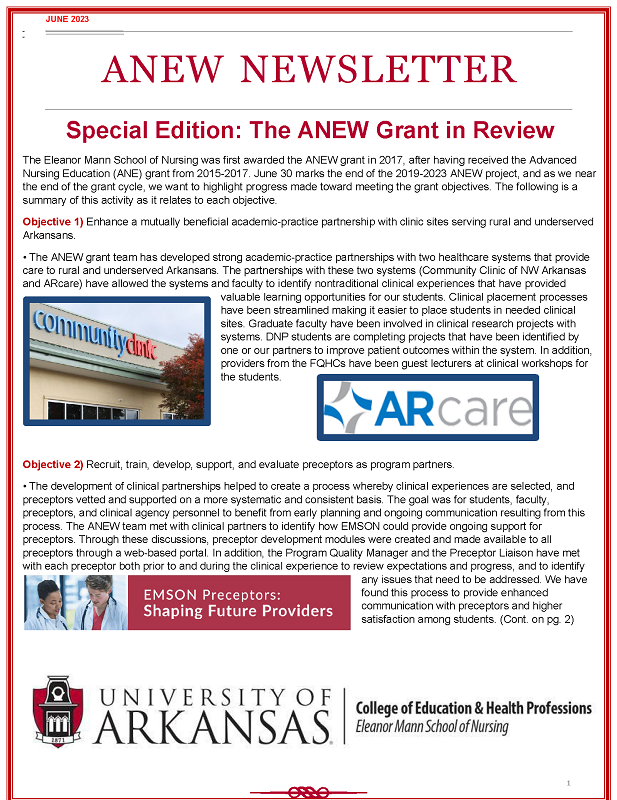 For more information related to the ANEW Grant, please contact Project Manager Becky McCann, rxm012@uark.edu